Sundy Best - Door Without a Screen
Front porch melodies and song lyrics grown out of the rocky topsoil of Eastern Kentucky's Appalachian Mountains intertwine Sundy Best's roots in every song they sing. They are storytellers and balladeers. They are crowd rockers and party starters. The band's visceral sound and incredible live shows have gained them a loyal following of dedicated fans from the hills and hollers of Appalachia, all the way to the bustling one way streets under downtown city lights across the south. There are mountains in their music- valleys of love lost and missing home, peaks of rowdy Saturday nights chasing Kentucky women, and the journey in between. With influences ranging from country, bluegrass, rock, soul, and rhythm and blues, the duo produces music that, at times, is hard to classify. That's just fine by Kris Bentley and Nick Jamerson. No need for a radio template, just the strum of guitar strings, bass and snare, life lyrics, and the family, friends, and fans that make it all worth it. Every song is a reminder that they have not forgotten where they came from. So put some Kentucky Bourbon in a mason jar, walk barefoot on cool grass, play Sundy Best loud and dance until your roots show. Their video for Home premiered Friday on CMT Pure and they already have a ton of tour dates lined up. Click here to order the debut CD from Sundy Best, Door Without a Screen, as well as tshirts, koozies, posters, and more!
Click here to learn more...


James Benton

1. What is your best childhood memory?
Playing in the once clean creek down the street from my house.

2. If you could be the opposite sex for a day what would you do?
Probably hang out in the women's dressing room at the gym a couple of hours a day I suppose. Hell, I don't know.

3. What is your favorite flavor of ice cream?
I don't eat much of it these days but I'm a bit of a fan of Chunky Monkey

4. If you could be any fictional character, whom would you be?
Spider man

5. What's the one thing you own that you know you should get rid of but never will?
My Fender Twin Reverb that is collecting dust back in the States.

6. What book are you currently reading (or the last one you read)?
Unseen Rain "Quatrains of Rumi"

7. What is your favorite word, phrase, quote or lyric?
"There's a bluebird in my heart that wants to get out but I pour whiskey on him and inhale cigarette smoke and the whores and the bartenders and the grocery clerks never know that he's in there." - Charles Bukowski

8. What is the most inspiring concert or performance you have ever seen?
Leonard Cohen in San Francisco 1993 and a performance I just recently saw a video of, of the B52s doing Rock Lobster back in the day... Shamanic magic!

9. Name something you love that no one else seems to like. (Or name something that everyone seems to love except you.)
I rather like my brother's moonshine margaritas when I'm back home in Kentucky. The rest of the family is in total fear of them.




Enter your email address here to sign up for our monthly eNewsletter! To see this month's edition, click here.

"But I'm here to tell you this / That the sky is yours to kiss / So go and lift your lips and raise your eyes / And expect surprise"
- Danny Schmidt


Click Here For All Digital Artists!


-eXciting news!-
April is National Poetry Month!
Check out books from these poets available from Cypher Books. John Murillo, Suheir Hammad, Rachel McKibbens, and Roger Bonair-Agard are all critically-acclaimed poets that will leave you hungry for more. And just in time for National Poetry Month, Cypher Books is offering a special deal in their online store! Buy 4 Poetry books including ZaatarDiva, the award winning breaking poems, Pink Elephant, and Up Jump the Boogie for a discounted price. Check out this powerful video from Suheir Hammad reciting two of her poems at a Ted Conference.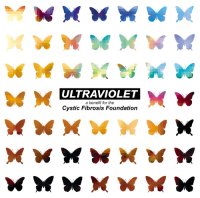 -eXciting news!-
UltraViolet Rock Show and Sale benefiting Cystic Fibrosis!
The 7th annual UltraViolet Rock Show and Art Auction will be held Saturday April 27th at Club Dada in Dallas, TX. The event, named for Violet, the 7 year old daughter of El Gato's Kirk Dixon and Lovie's Rebecca Dixon, is a benefit for the Cystic Fibrosis Foundation and all proceeds will go to the foundation. CF is a genetic disease that affects the lungs and pancreas of about 30,000 kids and adults in the US. The CF Foundation's goal is to find a cure for this life threatening disease and it spends 90% of every dollar raised on research and treatment. On the evening of April 27th Club Dada will be filled with music featuring performances from The West Windows, The King Bucks, Camille Cortinas, C.H.U.M. (featuring members of El Gato and Lovie) and James Dunn. The UltraViolet CD with tracks contributed by Baboon, Sebadoh, Deep Blue Something, Somebody's Darling, Doug Burr, Tim Delaughter (of Tripping Daisy/Polyphonic Spree), Lovie, El Gato and more is now ON SALE for only $7.00 in the UltraViolet store, with proceeds going to the CFF!



-eXciting news!-
Bismeaux Records - Wheeler Brothers: Gold Boots Glitter
Making music continues to be a family affair for Wheeler Brothers. The Austin, TX quintet traces a personal lineage of rock, folk, roots, Americana, and blues on its second full-length album, Gold Boots Glitter, cooking up an irresistible gumbo of styles in the process. Marching forward from 2011's critically acclaimed Portraits, the group opens the door even wider for everyone to join the family. Click here to order today!





Don't forget, May 12th is Mother's Day! If you want to give Mom the gift of music, order now to arrive in time for her special day! At theconneXtion.com, we have the perfect gift for any mom. If you need suggestions, check out our Facebook page for ideas!

Rob Delaney is on Season 3 of Burning Love, the hilarious spoof of shows like The Bachelor.

Dale Watson has been busy! He recently opened up for John Mellencamp at the Mack, Jack & McConaughey Gala Night at ACL Live at the Moody Theater. Mack, Jack & McConaughey (MJ&M), is the joint fundraising effort of actor Matthew McConaughey, recording artist Jack Ingram, and Texas head football coach Mack Brown. Dale was also on NPR last week, you can listen to the interview here. Check out Dale's store for his latest releases and new merch!

This past Saturday, 4/20, Prairie Home Companion had a live broadcast featuring conneXtion artists Asleep at the Wheel and Kat Edmonson!

Matt Braunger has a new 15 minute weekly podcast on Nerdist.com called Ding-Donger with Matt Braunger! Click here to take a listen.

Congratulations to conneXtion artists Danny Schmidt and Carrie Elkin, who got engaged during one of their shows at SXSW! Here is a video of how it all went down!

If you are one of the many folks heading to New Orleans for Jazz Fest, make sure to take time and check out Dash Rip Rock's show at the famous Carrollton Station on April 26th! Their current CD, Black Liquor, is getting airplay on Sirius XM.

This is the last week of the huge Kenny G sale! Most items in the store are over 50% off!

Congratulations to Mathew Sturtevant, whose photo of Willie Nelson from his book, The Sound of Austin, was this week's winner in the Parallax photo contest! You still have time to order this amazing book for a lovely Mother's Day gift!

Check out this great interview with Jared Green from The Howlin' Brothers! The band is moving up the Americana Charts at #14 this week.